What to visit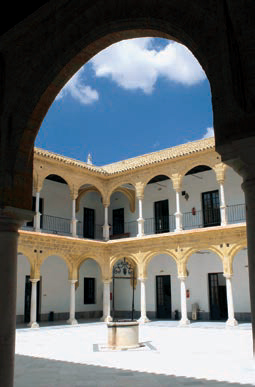 In Osuna the monumental and patrimonial interest is not at all at odds with the attractiveness of its walking areas and outdoor meeting places. The Race is considered the neuralgic center of the life ursaonense, the most commercial street of the locality.
The contact with nature and tranquility are assured in the Paseo de San Arcadio, a remodeled park that provides Osuna with an ideal location for recreation. It is in front of the Bullring, witness of the deeds of great swords, and the Arch of the Shepherdess, that corresponded to the old Door of Écija, constructed at the end of s.XVIII during the reign of Carlos IV. In addition, the beautiful streets of Osuna have been the scene of important films such as Callas Forever, Franco Zefirelli or Carmen de Vicente Aranda.
After the interesting walk, the visitor can taste traditional dishes, elaborated recipes or new creations in any of the bars or restaurants of the town. These establishments are concentrated in squares, squares and avenues that serve as a meeting for young and old. Such is the case of the Plaza Mayor, in front of the Town Hall, Plaza de la Duquesa, in front of the Archaeological Museum, Plazuela Salitre, Plaza de la Merced or Plazuela Cervantes, presided by the Arch of the Shepherdess.
SCHEDULE OF MUSEUMS, CONVENTS AND CHURCHES